One of the frustrations I see from a lot of female entrepreneurs is how to leverage their time and invest in their business that will get them a return on investment. One of the biggest areas in building a business is branding and websites. A couple of the challenges I see a lot of entrepreneurs face are:
1. They build a website, then sit back and wait for leads to come in through that website
2. In the early stages of business, they don't know where best to go to build their websites or membership sites
Having built my own website a couple of years ago, I can say that I loved doing it as a very creative person, but it took up a lot of my time. When I got to the stage of needing to build my own membership website I joined The Membership Guys hub, which is an amazing membership and resource. I learned about all the different ways of building membership sites, and decided that Iwas going to use Memberpress.
Then I discovered this amazing company, Ready Steady Websites, who not only included Memberpress in their bundle, but actually built the membership site out for you! They had a bank of templates to use that were perfect for my business, and I'm really excited to introduce to you today Chris and Jude.
Chris is the creative director of the business. He's the guy who's been working on computers ever since he first discovered MS word and created bank cards for his sister to play shop with. He has over 15 years experience in both web and digital design, and has worked and consulted on project with the likes of IKEA, RBS, and Coutts Bank. Jude is the brains behind the whole operation and as co-founder she has a wealth of experience.
Jude previously organised and ran interagency conferences and delivered workshops in Westminster for the Children's Workforce Development Council. She has been working in the web industry for the last 10 years.
Chris and Jude are going to be talking with us today about why a website is important for your small business.
Welcome Chris and Jude, I'd love to hear your story and the story of your business. How did Ready Steady Websites begin?
Jude: We started our business 2nd Floor Designs ltd coming up to 10 years ago, and that's the business where we do more bespoke websites and more traditional web agency type work. We started that when I was pregnant with our first child – Chris was working as a studio manager in a design agency, working with some really big brands who all wanted his time all of the time! He was getting home ridiculously late and starting early every morning. He even had to put a web page live at midnight on New Year once! He just felt like he wasn't going to see this baby. So we just thought 'Let's do it!'. He's going to leave his job, we'll set up a business, this is a really sensible time to leave your job and not have a secure income!
We set the company up straight away as a limited company, with both of us as 50% shareholders. At the time, I worked for a local authority in the children's services department, as one of their workforce general officers, which basically meant I was a project manager. After I had the baby and was on maternity leave, I did some Keeping In Touch days, and whilst in work on one of those days I was asking about one of the projects that I'd been working on and where it had got to, and literally nothing had happened on that project. And I just thought, it's been nearly a year, nothing has moved forward, I'm just going to go back to the exact same thing. My life had changed so much in that year, and I just felt like I was going backwards.
Chris and I chatted and decided that actually, the income we could generate by both of us working for the business was far more than if I went back part time to my old role. We carried on doing the more classic design work for a while, then as things progressed and we introduced Ready Steady Websites, we combined our skills really. Because Ready Steady Websites offers a lot of training, we help our people learn how to use their websites, how to upload their content, and lots of other things, it works really nicely bringing my training background and Chris' web skills together. There are times when Chris gets a bit lost in his techy world and I have to reign him in, so between us, the partnership just works.
A lot of people do find websites really techy! Like money, there's all this jargon so they just bury their head in the sand. So let's dig into that. For someone reading right now thinking either 'I don't have a website' or 'I have a website but it's not doing what I need it to'. What would you say to them? Why is having a website so important?
Chris: There's lots of people who will tell you that you don't need a website, you can have Facebook, build your business on Instagram, use Pinterest, and that kind of thing. But you're always building then in someone else's back yard. I always say that your website is your hub. You're fully in control of it – your brand, how it looks, how it functions. You can add things to it, remove things, and nothing changes that you're not in control of. Facebook can change anytime. They changed their pages algorithm a while ago. This is why it's really important to have a website, so that you're in control, but also one that looks good, functions well, and in particular looks good on a mobile which is not always the case.
Jude: You also own all of the content on your website. If you're putting things on Facebook and social media, that content can vanish, whereas if you put it on your website you own it and you're in control of what happens to it.
There are definitely mixed messages out there about whether you need a website. While people may choose to contact you via social media, most people when they want to work with you will do a Google search. So I do think from a professional perspective, it does make a big difference.
Jude: Absolutely. The first thing I do if I see someone commenting on Facebook and I'm interested, I'll go and have a look at their Facebook page. Then if that interests me, I'll want to go and look at their website. I want to see how established they are, find out where they are, look at their contact information, and find out more about them. Anyone can put up a quick Facebook page, whereas if someone has spent the time to develop a website that looks good and functions well, that makes me think a little bit more of their business.
If somebody wanted to show their brand on their website, how do they start thinking about what should go into that?
Chris: From a new website perspective, the first step is research, You should be looking at other websites and competitors, and things that you want to do with your website. Once you've done your initial research, you then build up a kind of shopping list – whether that's a design shopping list or a functionality shopping list, or at best a cross between both. So that you know the feel of the website, the colours you want to use, the fonts, and also you know that you want to have an 'about' page, a 'services' page, and a 'products' page. And then one of the things we think is really important that a lot of people don't consider, is where you're going to be in 6 months to 2 years time. You may only need a simple one page website now, but in 6 months time you want to build that out to include services, then maybe you want to build an online shop in a year's time, and a membership in 2 years time. All those things should be considered from the outset.
So you build that shopping list, then use that list for the shopping list for the platform you choose. We recommend WordPress because we feel it's the best feature rich, future-proof platform. But you use your list to work out what you need to do and choose the right platform for your needs, not just for now but that will grow with you.
That initial competitor research, why is that part so important? Is it to mimic or stand out from your competitors?
Jude: I think it's a little of both. It's definitely so that you can stand out – you can see what they're doing and see if there's something that they're missing. It's to make sure that you don't look too similar, but equally I think if there's somebody out there who is doing similar to what you do, they've been around some time, and it's going well, it's a good idea to have a look because they're doing something right! It's worth doing it so that you can identify the things and features that are working really well on other people's websites.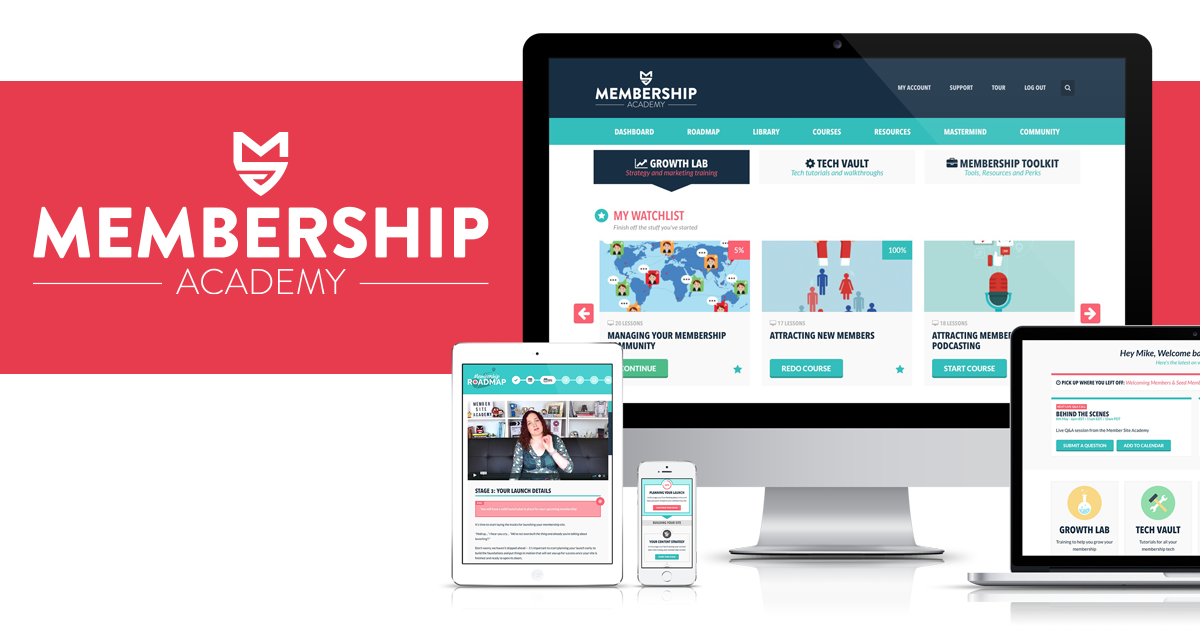 Understanding what your competitors are doing is really useful. It's also so important to know who you're serving and who your ideal client is because that will determine your branding. For example in my case, one of my competitors could be someone like Pete Matthews of Meaningful Money, but actually our ideal clients and audience are very different and our branding reflects that. So, if you have a website and you're wanting to attract clients, are there any things you'd say you absolutely must have on your website in order to attract clients?
Chris: The most important thing initially is understanding your customer. You need to think about one individual who is your perfect customer, your 'customer avatar'. Then you shape all of your content to be pointed at them.
The one thing that doesn't always happen is people don't always convey themselves on the website. A good brand should be an extension of you as a person, so that people feel like they're connecting with you. Images of you are always a good idea, but also the tone of voice.
Sometimes that really frightens people doesn't it?
Chris: It definitely does, and it's one of those things – personal brand is a big deal these days. You do have to go off and have one of those cringey photoshoots and just get it done! A good photographer will help you through, and help you to feel comfortable. But as long as you can convey your personality through your brand and through your website that's the main thing.
We always say consistency is important, so this applies across the board. Your brand should be consistent on your website and on Facebook, Instagram, Pinterest, and whatever else you're using. They should all feel the same, so that wherever people are they know that it's you because it looks and feels the same.
You obviously need to think about what you're trying to convey which will be dependent on your customer avatar, but you should have some information about you, your services, you should make people feel welcome and want to click through your website. Maybe you want people to join your Facebook group or download a freebie – you need to decide that for each page of your website to determine the key action you want people to take on each page.
Jude: I think you also need to demonstrate on your website that you are an expert in your field. Whether that's through client testimonials, or a blog showing your knowledge in different areas, that's another key thing. Once they like you and think they'd like to work with you, then that's the thing that just pushes people that little step further.
Chris: That's where a website can really make or break a sale. They see the website, it builds authority, makes them want to click, and makes them want to work with you.

I was talking recently to my Inner Circlers about owning your space, and contacting journalists to be quoted in press articles. Lots of people don't realise that it's not just celebrities being quoted in publications but that their own story can be really powerful. Something in your story will resonate with your ideal client, so if you can get quoted in these publications, not only do you build your authority, but from a website perspective you also get backlinks, which helps to improve your SEO.
Jude: That's also why guest posting is important. We do some guest blog swaps, where essentially we write a blog for someone and they write for us, and then we're each linking to each other's websites. That's another fantastic, very easy way of getting more backlinks.
Do you think that people should be using stock images on their website?
Chris: I think you can, but you need to be careful with what you're using. You need to make sure you're getting something that resonates with your brand and feels like an extension of you and your branding.
One of the other things we say when you go off and get your photoshoot done, is not to just take pictures of you, but to get pictures of your hands using devices, something with some space to the left or right, or doing other things. There are lots of instances when you may need something other than a face shot.
Jude: One of our freebies is a download with the 10 stock sites we recommend, because you do get some shocking ones.
I like that, about branding being an extension of you. In the early days I didn't have any professional shots at all. I had a few images of me and stock images I used from a company called Haute Stock, which is a really feminine brand and fitted me and my ideal client well.
When I did go and have my branding shoot, I remember all too well the awkward poses in my village against walls pointing to nothing to get shots that I could then use to overlay text and other things. It doesn't have to be hugely expensive – you could find a local photographer to help you pull out a few key images to use as your headers and on social media so you get that brand consistency.
Chris I love your analogy of a shopping list, and then creating a sitemap. I also love that I've heard you say to do that with post-it notes!
Chris: Yeah, we're kind of old school. I've tried out every single programme you can think of to organise these things, but I always end up reverting back to post-its and sharpies. It's the easiest way because you stick them on the wall and can move them around. That's what we do for all of our bespoke clients.
Jude: It's definitely the easiest way to do the sitemap. When you're thinking through your website you might start off thinking 'I want a home page, about page, and then 3 pages for services'. But when you see them all stuck to the wall, you might think actually, those 3 services might be better as 3 sections on the home page, because I only need a little bit of information about each one. So you just take the post-its and move them to underneath the home page. It's just a fluid experience doing it that way, and it's such an important part of working out how your website is going to look.
Once you've got that sitemap, how would you then decide what the best thing to do is? How do they decide if they should go DIY, go with a professional, or bespoke website build.
Chris: I think it would be a cross between shopping list VS budget. You can go DIY, but my problem with going DIY is really it means you don't value your time. It means that you're willing to put a load of your time and skills and try and convert them into web skills. Then the problem with going through agencies is that you're looking at £5-7k for a decent website.
So it really depends on that shopping list and how much you have to spend. We always say it's worth investing in a website because it's going to last you a long time and it should grow with you and be future-proof. So it's always worth investing at the beginning if you can afford it.
Jude: We've had a number of people come to us having built their websites on well-known DIY platforms, and they tell us they've built their website and now they want to do something on it but can't. I think they get so frustrated by that, because to start with they had a website that was great, but as time goes on they realise it really isn't working anymore and it can't grow with them. Or the other one we hear from DIY builds is they build in then ask for opinions and realise it just doesn't look great and really doesn't reflect how professional they are.
I really felt for a lady I saw recently who had put a lot of time into doing her own website, then asked the local paper to feature an article about her business and they refused because her website didn't look professional enough. Like Chris said, she should have valued her time more, and just got someone else to do that for her.
We did a podcast episode last year on leveraging your time. The best decision I made was that I outsourced my website to a tech VA who now is a big part of my business, and that's how we found you guys!
I'm a big systems person and need my website to be connected and 'talk to' the other systems that I use, in order to best leverage my time. You guys identified this niche in the market of people who didn't want to go DIY, didn't necessarily have the budget for a bespoke build, so tell us a little bit about what Ready Steady Websites offers.
Chris: At one end, we do custom website builds, WordPress builds, and branding as well, which is all quite high cost. At the other end, we do WordPress themes which are $50 each. So at one end you have completely DIY which is all on you, and at the other you have bespoke which is very costly. Over the last couple of years I've been predominantly working with female entrepreneurs, and I was building a lot of bespoke landing pages and little sites. And I said to Jude – there must be a simpler way of putting a package together which gives them everything they want and looks high end, but doesn't cost them as much as my time doing it over every single time. And that's how we came up with the idea of Ready Steady Websites.
The idea is that you get something which is essentially a template, but it's been designed for your niche. So you've got different templates for coaches, entrepreneurs, speakers, wellness, fitness, and we're building a small business one at the moment.
We've treated every single template like it was an individual client. We've done our research, built it out, decided on the pages we think they need, the functionality and design. So you can literally lift this up and drop your content in. Or with the power of the page builder, you can move things around, and create new pages from scratch.
The missing part of the process was support. So if you've already got your branding colours, fonts, and logos, you give us those when you sign up with us and when we set the site up for you on our staging server, we preload them in to your chosen template for you. All of that is applied so you don't have to do any of that – you get your website and it already looks like 'you'. All you need to then do is go off and swap out your images, content, and your lead magnets and those kind of things. And if you get stuck at any point, you've got access to us via a Facebook group and also via our support ticket system.
You also have a membership which we've built which was hundreds of tutorials, like how to use the page builder, connecting Mailchimp, connecting Stripe, and so much more.
I remember first getting my template, and literally being able to drag and drop images. It's just so easy to use which is what I really love about your service. And the support is incredible! Your Facebook group is really engaging, and no question is ever stupid.
Chris: I'm pretty good at answering in simple terms.
Jude: You've definitely got better over the years. I remember in the beginning you used to say things to me and I'd just go 'errrrm…what?!'
For anyone today who wants to get started planning their website, you guys have a 5 day email called Get a Website That Works for You in 5 Days.
Jude: Each day you get a set of tasks to do, and it's not necessarily that you can do each task in one day – you're entire content might take a little more time! But each day the challenge gives you steps to take so that by then end you've got a really good idea of what you want from your website from a design perspective, functionality, which pages you will need, and what content.
It's for anyone who needs a website or even has a current site that they realise just isn't doing its job.

Resources:
Join The Money Circle membership
Join the next FREE Plug Your Money Leaks Challenge
Book in a complimentary call to discuss how financial coaching can help you move from financial overwhelm to confidence and control.
Join Catherine's Facebook Page and FREE Facebook Group
My Online Courses – Investing for beginners from £1
Connect with me on Twitter, Instagram and Facebook
The 5 Day Challenge: Get a Website That Works for You
Five things to improve your website conversions
Life Leveraging & Self Worth with Rob Moore